Darren Turner's transition from open wheel formula cars to stock cars began at a little bull-ring of a race track called Penticton Speedway in a
street-stock class Chev Beaumont (that's a Canada only variation of the well known Chevelle).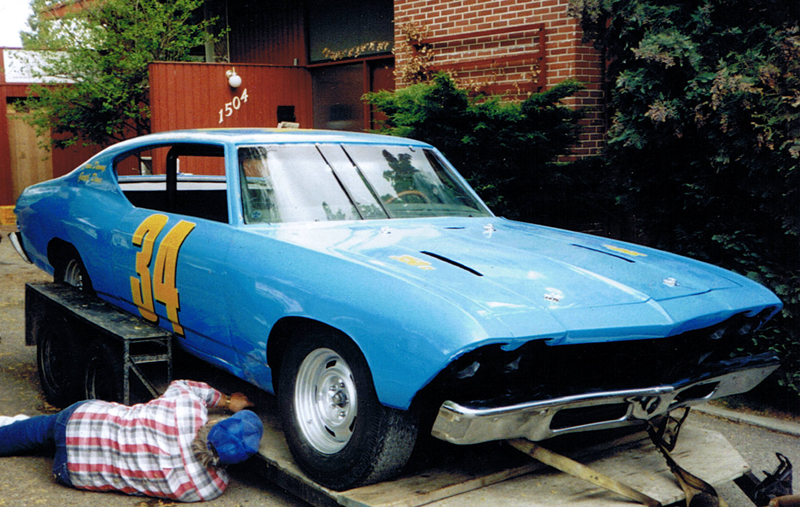 Garth Turner looking underneath the shiny, freshly painted Chev street stock race car. It would not look this spotless for long.
The Chevelle/Beaumont street stock race car came to an unfortunate, untimely end. It was T-boned on the front straight at
Penticton Speedway which totalled it. So, on to the next car, a Pontiac Le Mans. This car went from the auto salvage yard to
the racetrack in 6 days, since Darren was in points contention and the next points race was the following weekend. There is
video of the wreck as it happened, which will be posted later.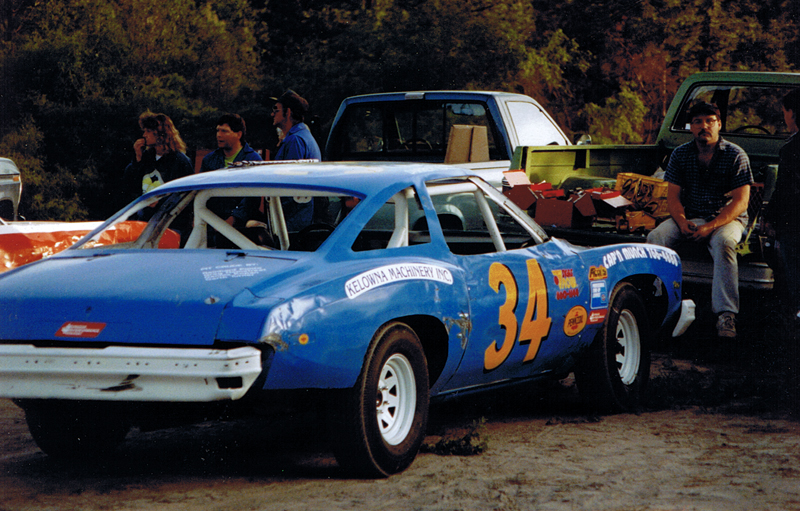 The good old, simple days. Darren's Le Mans in the pits. A small tool box and a few spare parts in the truck were all the
equipment needed to look after the race car at the racetrack.
Tired of the endless pounding of dents out of fenders, Darren gave up the street stock for a Sportsman class car. Although
the drivers in this class didn't destroy fenders as often, they made just as good a job of it when they did.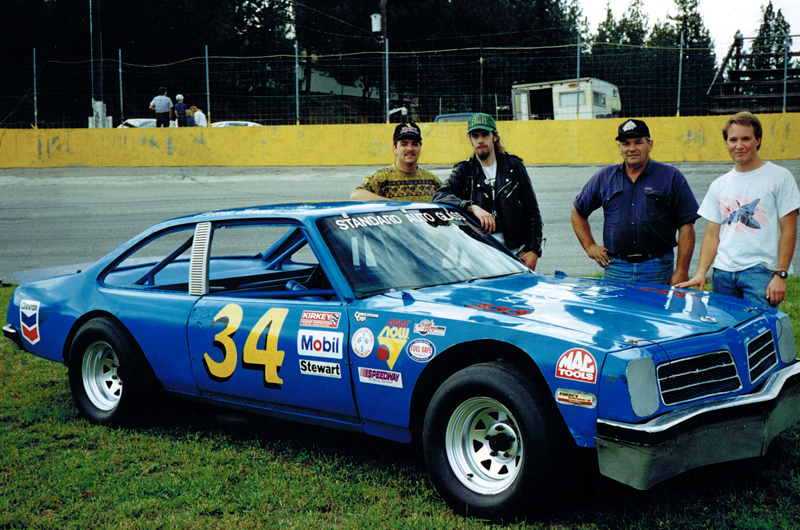 To step up from street stock cars to Penticton Speedway's Sportsman division, this Pontiac Ventura was aquired as a "roller"
from Shane Charleton. After a major overhaul (including repainting the pink interior!) and installing the upgraded engine from
his street stock car, Darren went on to earn Rookie of the Year honours that season, tying for 2nd overall in points. Left to right
are: Darren Turner, long time friend Greg Hemstreet, father Garth Turner and Roy Cobden (future crew chief).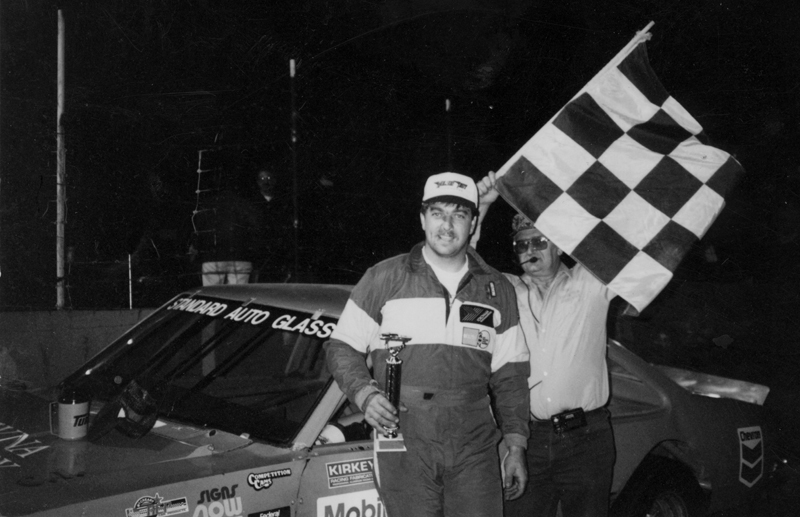 Darren receiving the trophy for a winning perfomance in a Sportsman division race.
Here's a scan of the sheet that was given out to each of the racers at the end of the 1993 season. This was pre Internet days,
so there was no website, no computerized printouts, just a handwritten sheet photocopied for everyone. The Good ol' Days!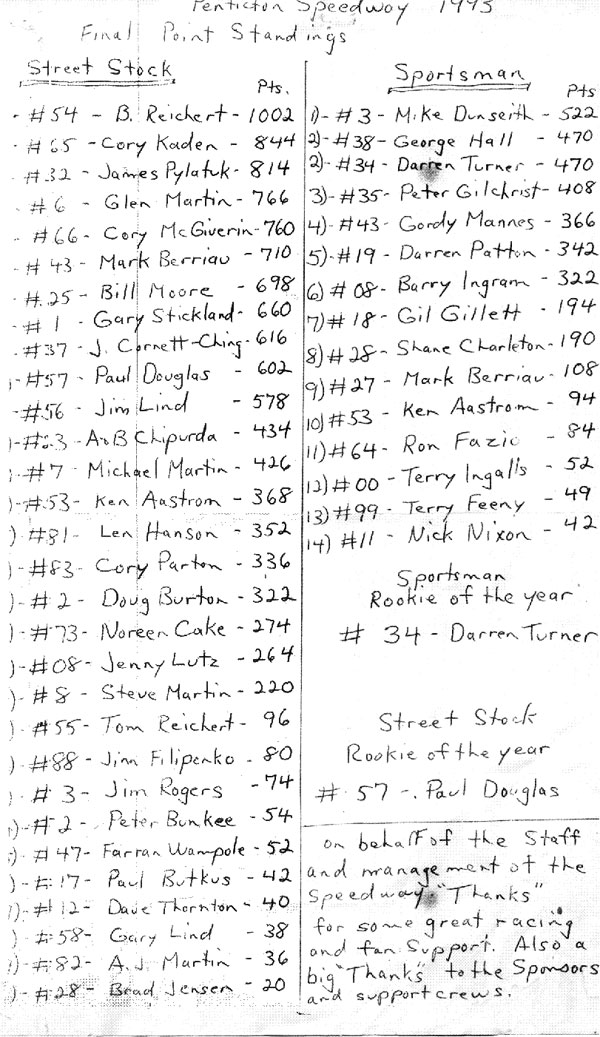 Not a bad showing for the first season of racing in a heavy, full fendered car with an adjustable suspension (street stocks weren't really adjustable). Series champion Mike Dunseith is the son of Andy Dunseith, who was the owner of Penticton Speedway back then.
Andy had some years of racing experience under his belt, including crewing with Calgary's Trevor Boys during his time racing NASCAR Winston Cup in the early and mid 1980's.
Trevor Boys actually is still persuing NASCAR. In 2009 he attempted to qualify his Dodge in Sprint Cup races at both Phoenix and Richmond. He's also run some NASCAR truck races, and so has his son Wheeler Boys.
Gil Gillett moved on to the CASCAR series after racing at Penticton, along with Shane Charlton, who sometimes drove for him. Darren moved into late model stock cars and joined the Budweiser All Star touring series, racing mostly in Washington state for the next couple of years. During that time, Darren also drove some CASCAR races for Gil at Race City Speedway in Calgary, and that experience would ultimately lead Darren into forming his own CASCAR racing team.
Dave Thornton (near bottom of the Street Stock list) and his son Dean would, years later, buy a race car chassis from Darren and go on to race it in the ASA BC Late Model Tour (formerly the Katana Sportsman Tour). The chassis they bought may be the only racing chassis Darren ever owned that he did not actually ever race himself.