The chronicles of Darren Turner in car club ice racing. Nothing high-tech here, it's all about being super-smooth and totally
in-tune with your car, so you can drive it at the limit of it's traction. There's a very, Very fine line between being the quickest
car on the track, or the first car stuck in a snow-bank at the side of the race track.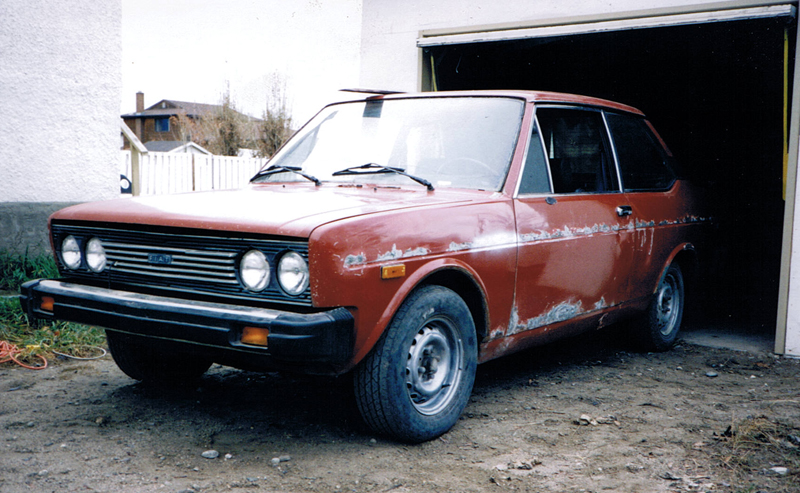 A Fiat, the first car Darren bought specifically to race with. Seen here as he first got it, it was quickly cleaned up to look better.
Below, step 2. Now looking more like a racecar, with a young and enthusiastic Darren.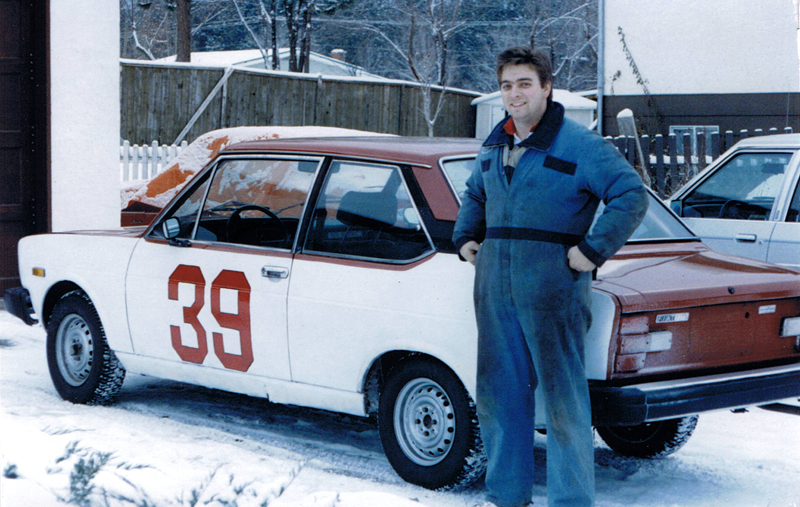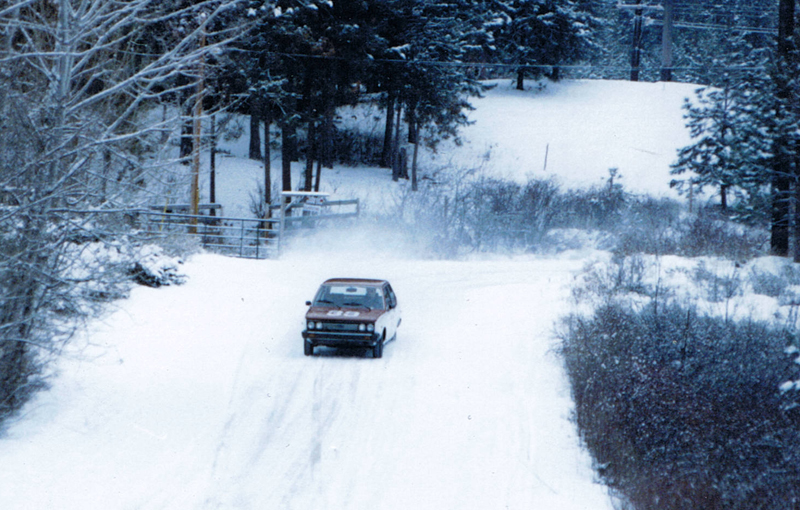 A test drive on an East Kelowna backroad to verify everything functions.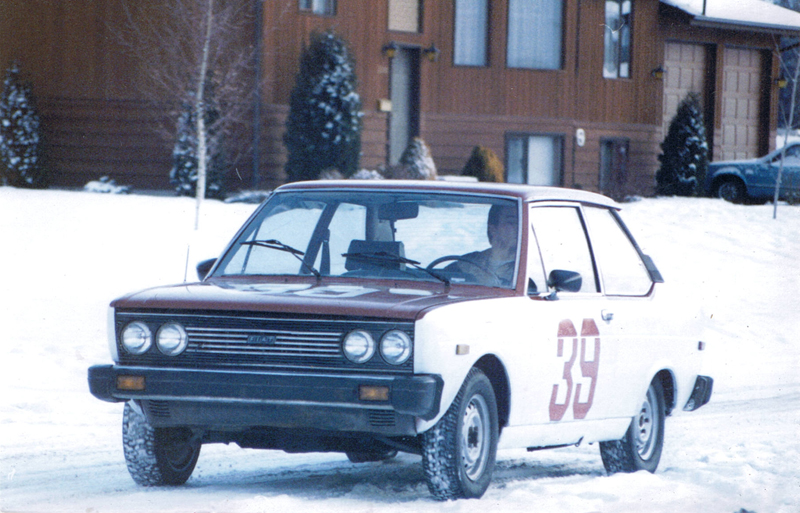 Next up... go racing!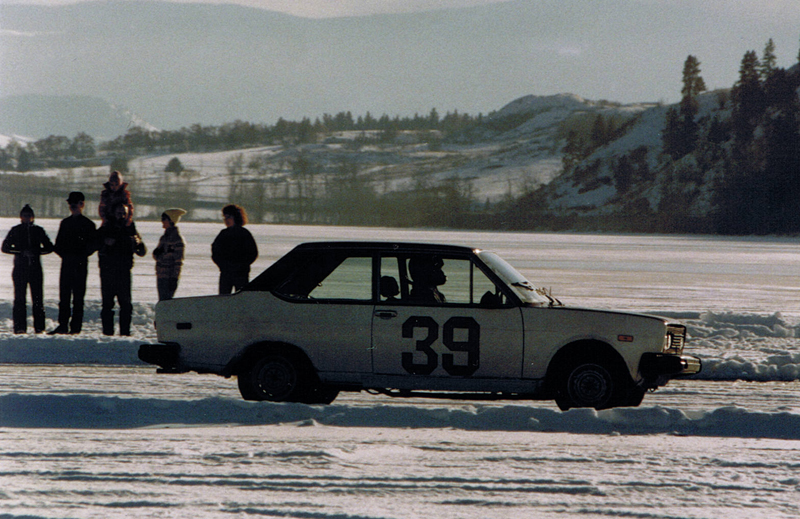 Jan 24th 1988 was a great day for Darren and the Fiat. Out of a total of 6 races that day, he won 3 races, placed 2nd twice,
and finished 3rd in the other race.
In 1989 Darren was ice-racing a VW Scirocco. Since it already had the roll-bars and safety equipment it he took it to the
Knox Mtn Hillclimb in the spring, where it raced in the SP1 category. Darren and his brother Dan Turner both taking turns
racing up the hill.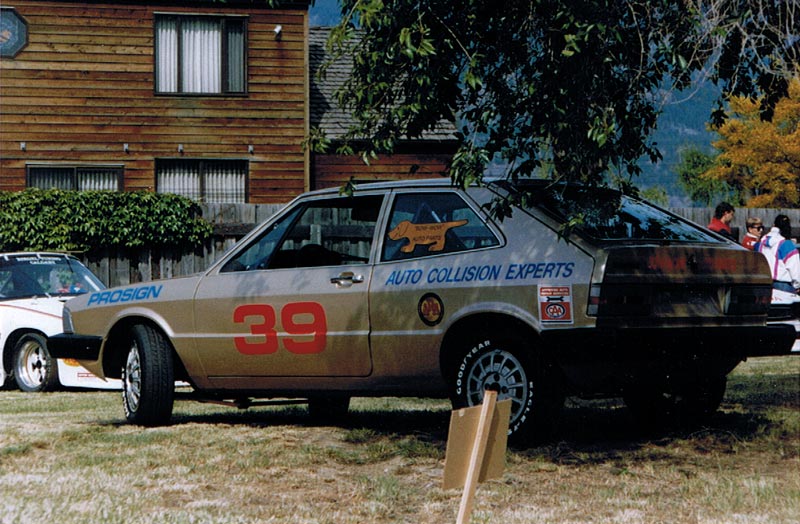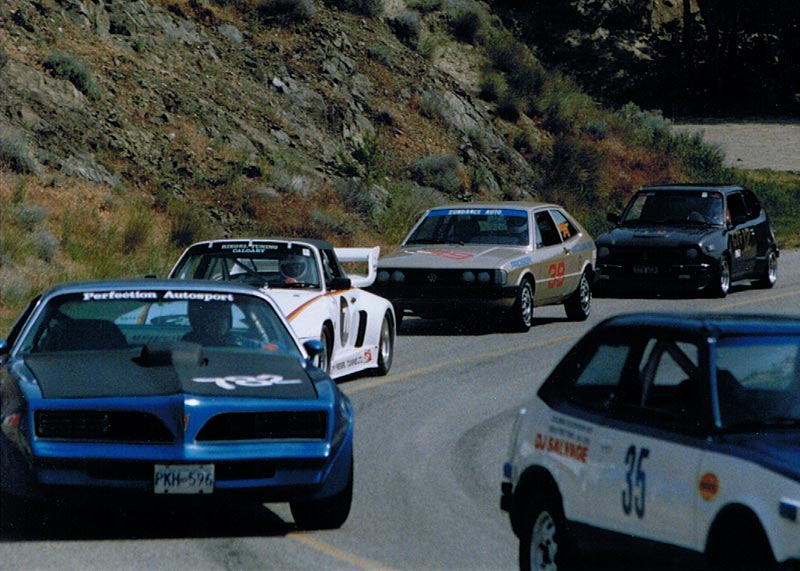 #782 SP-3 Trans Am of Cambell Carlyle, #71 GT-O Porsche 911 of Roland Riegel, #39 SP-1 Scirocco of Darren Turner,
#12 GT-5 Honda Civic of William Sit, #35 SP-1 Honda Civic of Tom Seifert.
See full results for the 32nd Annual Knox Mtn. Hillclimb, May 1989.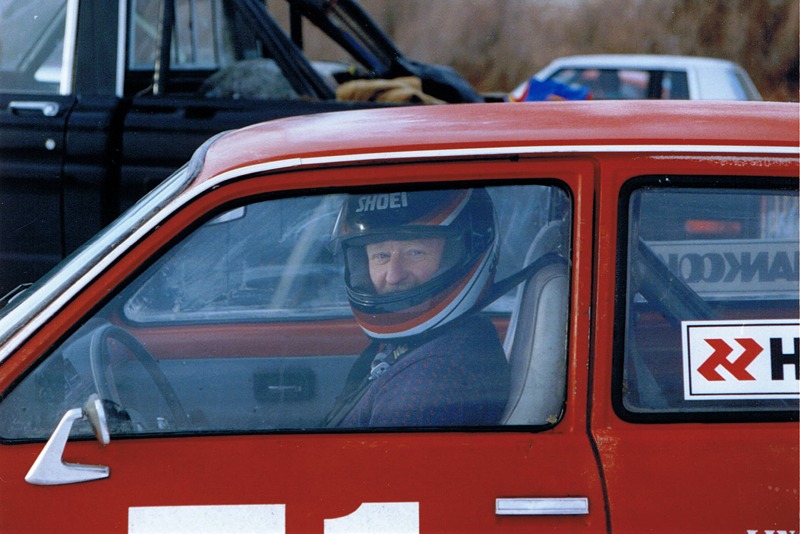 John Sharples, a worthy competitor. John's been racing for a loooooong time!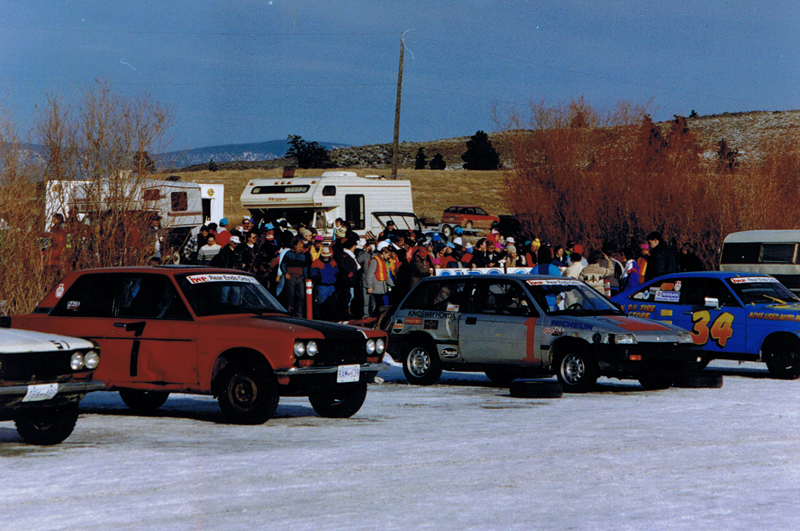 In this one, rare case, the #34 is not Darren's car!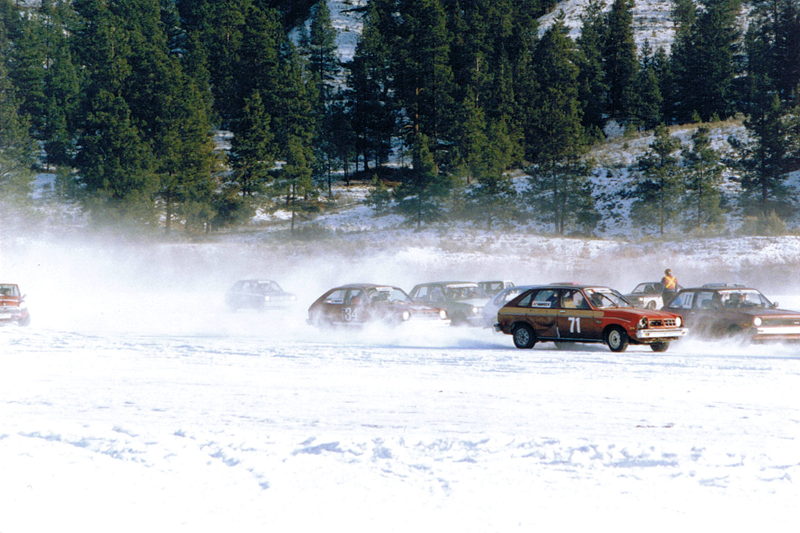 Barnes Lake again. Only #34 is half visible in the rooster-tail from the 71 car. Note the Austin Mini way off line at the far left!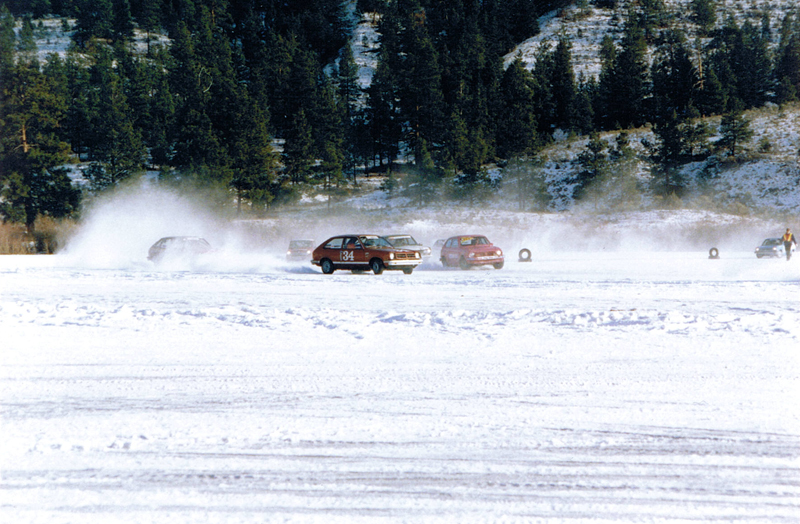 Finally, clear visibilty. One of the "perks" of running at the front!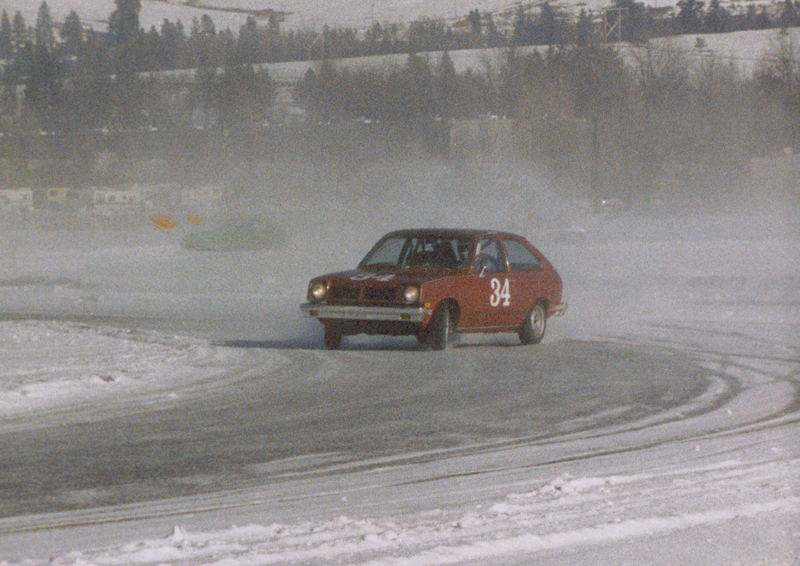 Drifting on Duck Lake, BC. Ice racers were doing this for decades before "drifting" ever became a sport!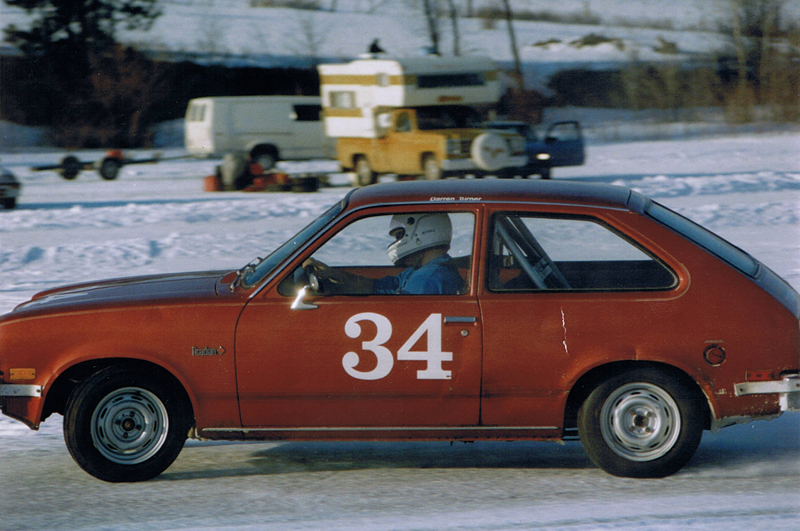 Look at the nicely reinforced roll bar behind the driver's seat. It would be critical in a later accident at Idabel Lake, BC.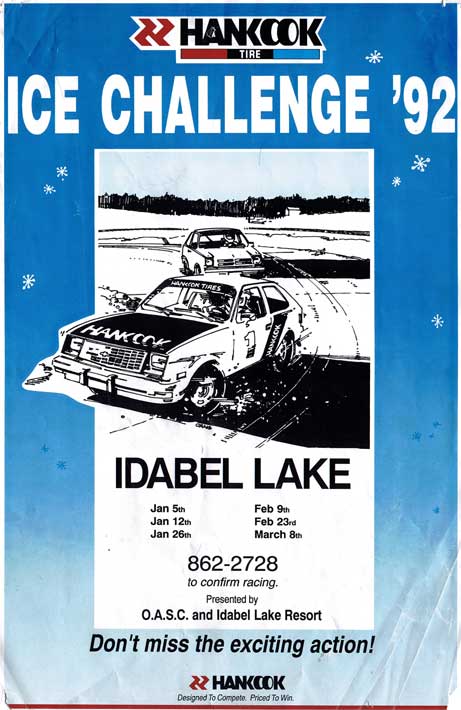 Looking a bit rough around the edges. O.A.S.C. is the Okangan Auto Sport Club.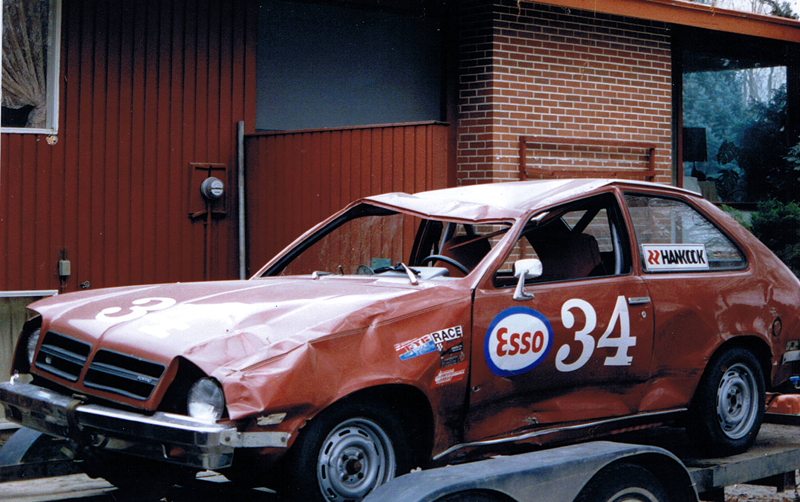 A great day of ice racing can go bad fast. Roll bar held up middle of roof, but front section crushed down. Future cars were
fully caged.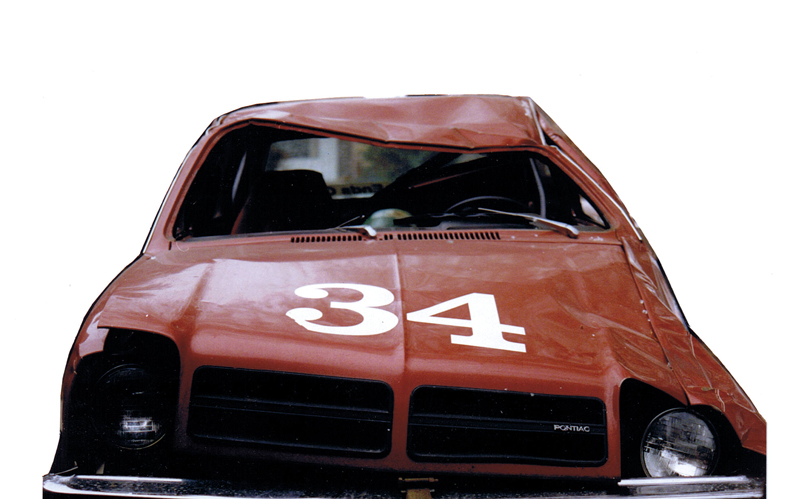 There's not much room to escape when you're hurt, the car is still upside down, and the roof has partially collapsed.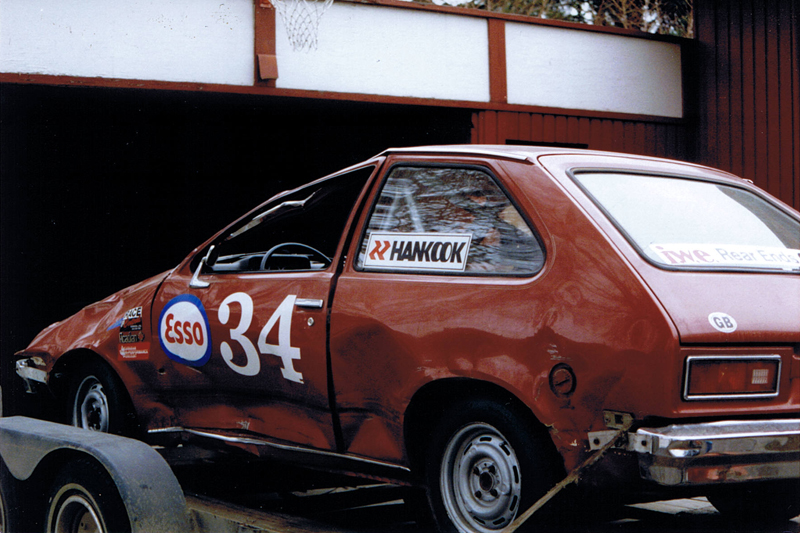 And this, boys girls, is why you should always use a full roll cage in a race car.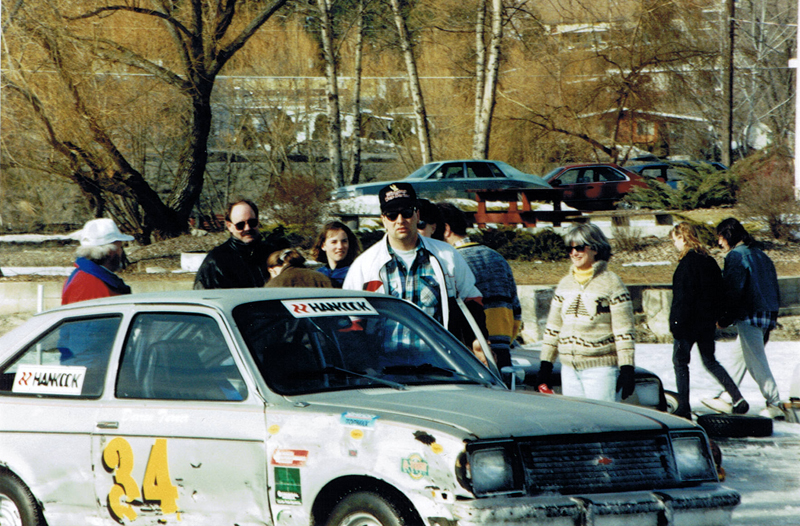 The next Chevette ice racing car, seen here looking a bit bruised battle scarred at Wood Lake BC. Note roll-bar tube inside
of the windshield. This car had a full roll-cage around the driver's compartment, instead of just the bars behind the drivers seat.
Much, much safer in event of another roll-over. Below, a more detailed look at the ice racer's 6 point roll cage.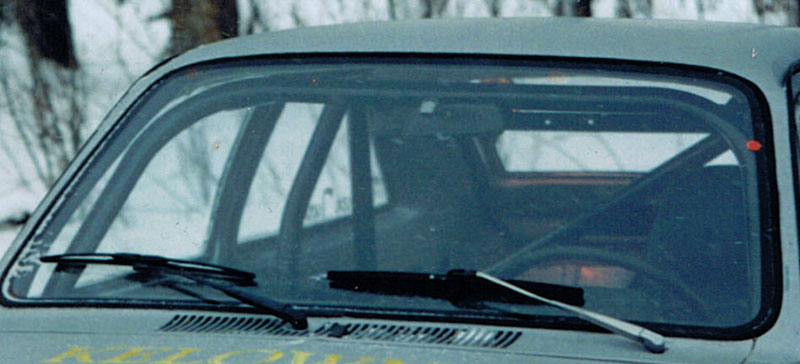 Lots of additional support with this 6-point roll cage to protect the driver's compartment from another roof-crushing incident.
Some thought the caged car would be at a big weight disadvantage to cars with just the basic roll bar, but Darren was just
as successful running against the lighter cars.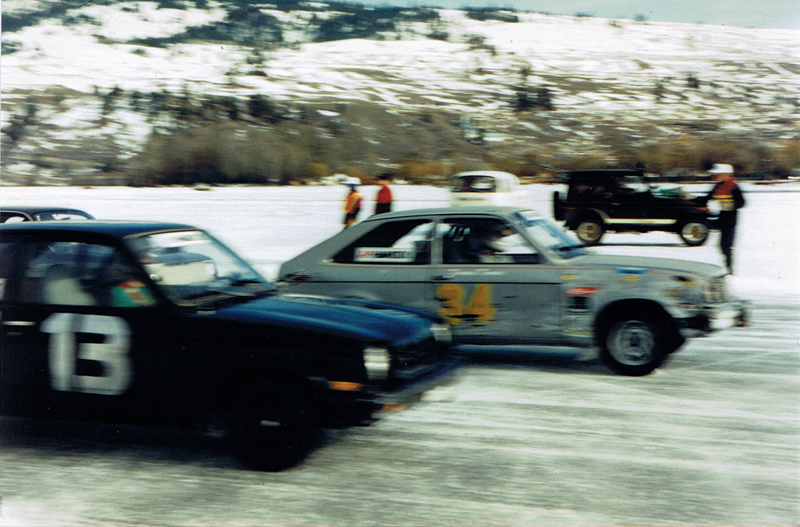 Rick Hammel racing #13, Darren Turner racing #34, bunched up together at the start of another race on Wood Lake, BC. In
white hat with safety vest is Bruce Nierop, brother of race car driver Kees Nierop, who also competed in this ice racing series.
Kees, who's racing experience including driving for the Porsche factory team at Le Mans, was one of several drivers who
created great competition and rivalry in the series.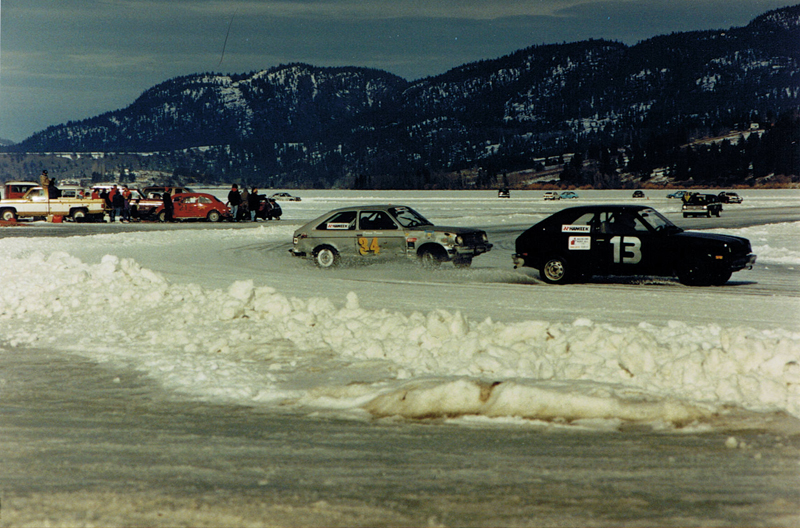 Wood Lake. Rick Hammel's #13 in front of Darren, Murray Greaves approaching in the background. Warm temperatures have
softened the ice, and studded tires are creating a layer of slush on the track that gets deeper with each passing lap.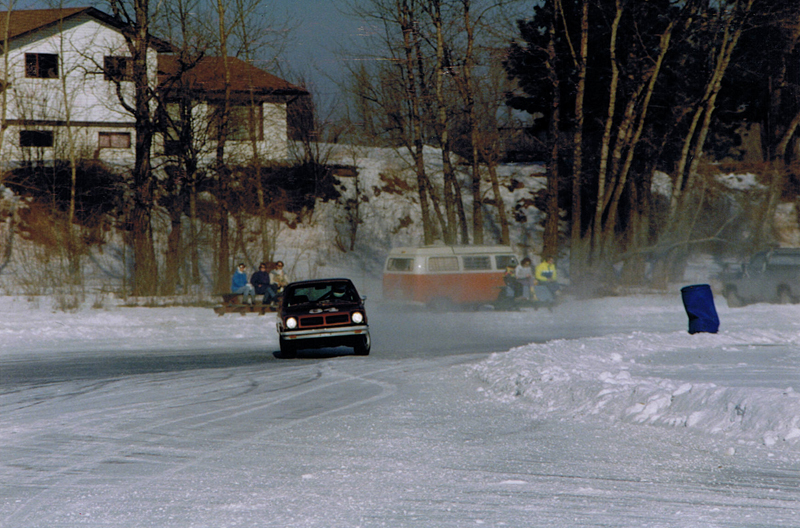 Car leans sideways as the studded tires get a good "bite" on the ice surface.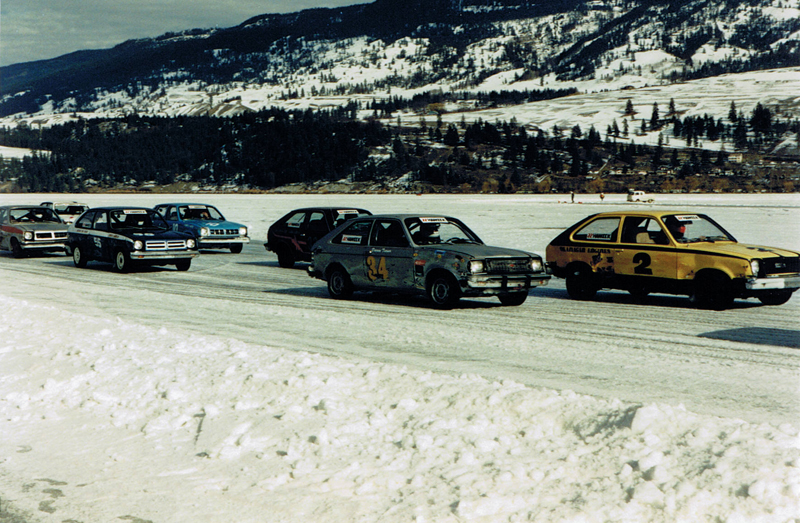 Wood Lake, BC. Everyone lined up for the start of another race. Driving silver car with red stripe at far left is Roy Cobden, who
would become involved in Darren's stock car racing later that spring, and eventually become crew chief and a part owner of the
late-model type cars that Darren started racing begining in the mid 1990's.